Social UX for Indigenous Youth
#Read | #Watch | #Imagine | #Embody | #Map | #Model | #Landback | #flowtime
A bundle of online primers for Indigenous Youth designed to future proof your creative career in UX


Lesson series
Make it Social.
Learn the conceptual tools of Social UX from a creative coach who will guide you thru carefully curated content...


Explore this bundle of Social UX Primers
thru the indigenous lens of Two Eyed Seeing.
This way of seeing, taught by Elder Albert Marshall, of the Mi'kmaq Nation, is know as Etuaptmumk.
COMMUNITY
A complete education program starts with private lessons.
CREATIVITY
We feature a series of special workshops led by our instructors and guest artists.
COHORT BASED
Our learners can benefit from learning with their peers, no matter their age.
COACHING
Keep progressing even in your summer holidays though a variety of engaging art activities.
Join us for an Introduction to Social UX..
Find out more about this unique series of Social UX primers for Indigenous Youth coming in the spring of 2022
Decentralized, Agent-centric, data sovereign networks...
Over the past two years we have been Cultivating Right Relationship while creating the Turtle Island Treaty Dictionary. This Dictionary will be co created by commoners who desire to uphold their obligation to Treaty by selecting 26 words to define their "treaty" dictionary, words that they can weave into their identity...We will draw on our carefully curated dictionary words from A to Z for our upcoming sustainable NTF Treaty Collection launch one day soon.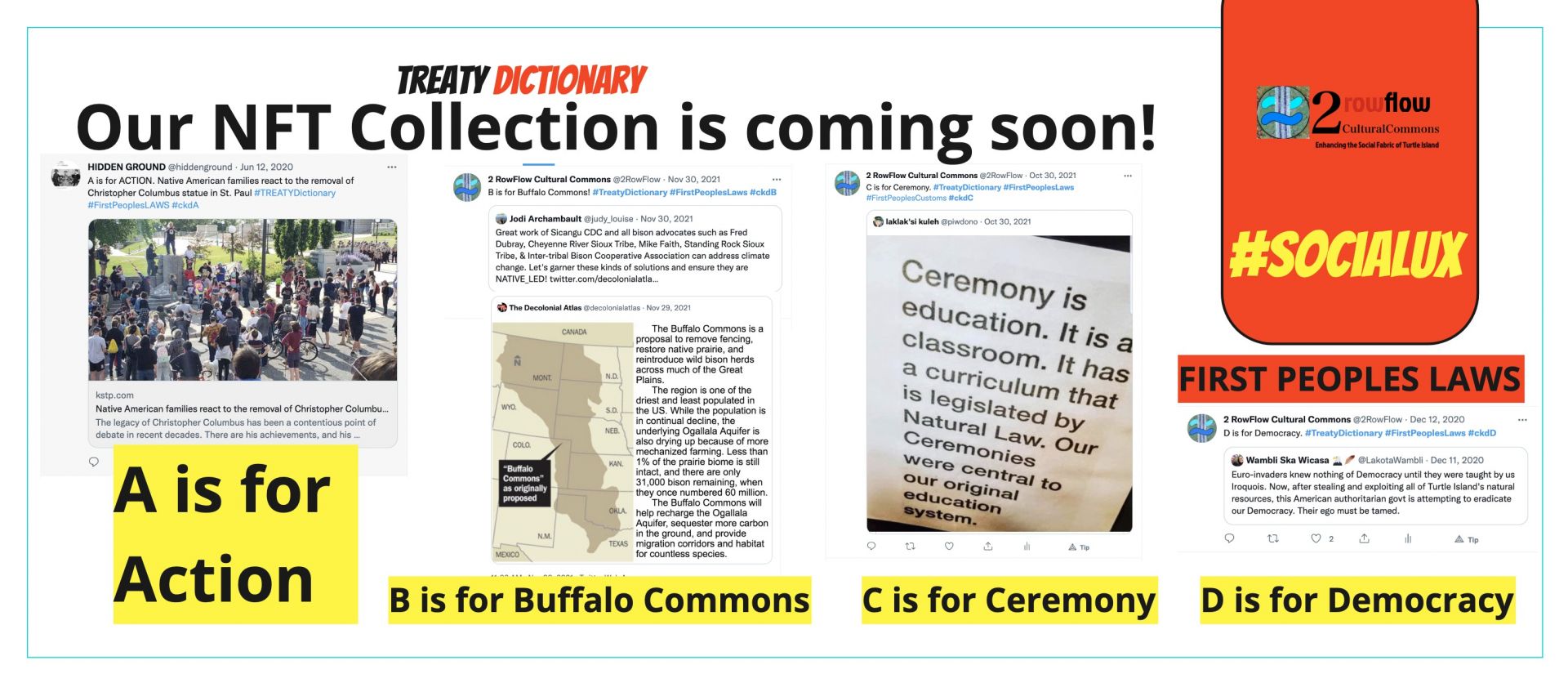 Join the community

Sign up for our newsletter.
Get exclusive news, tips & tricks
Frequently asked questions
"Your social goals can indeed help you find your true passion. In many instances, your chosen career may not be your true passion, even if you are successful. By getting involved in some social responsibilities, you might be able to find your true passion — something to live the rest of your life for."
What can you offer that I cannot get at other online schools?
The ability to design experiences is the primary meta skill needed to level up to become a sovereign agent, node or network in the new decentralized, creative, informational economy. This course includes a bundle of terms, concepts and models that the youth can unpacked and explore while leveraging their digital literacy skills. It is our hope that this course will light a fire and desire to "up skill" and pursue a path towards a meaningful profession in the Creative Economy. This journey could include starting a project or cultivating an existing one, one that serves your community and Nation which could lead to the conceptual design, sketch plans, architecture, build and maintenance of your cultural network or extend out into the wider community of Indigenous Nations around the world who are calling for Peace and Prosperity with an emphasis on collectivism and spirituality.
Indigenous youth are encouraged to put on the glasses of "Two Eyed Seeing" and examine a bundle of essential terms, concepts and tools found within the User Experience space at large and more specifically, in the sphere of user experience, using the method of contrast and comparing the best thinking from both Indigenous and European cultures. Doing so allows room for thought experiments on how they might be integrated to achieve better understanding, respect, friendship and peace within our networked society.
How does this relate to Treaty?
Digital networks are made up of systems of information that in turn make up the fabric of our networked society. These systems are waiting to be re-shaped by Indigenous Ways, Customs and Laws. New networks of relationships, in which one thing is connected to another through protocols, interactions and embodied cognition need to be imagined in the time of COVID. This course will leverage the information, media and digital literacy skills of tech savvy Indigenous youth by inviting them to explore a vocation in user experience.
Subscribe to our newsletter now!
Get updates on the status of Social UX for Indigenous Youth! Be the first to know when it launches.
Created with